Mali's newest gold mine, Yanfolila, which poured its first gold in December 2017, is performing strongly as its ramps up to a production of 132 000 ounces in its first full year of operation. Speaking to Modern Mining at the recent Mining Indaba in Cape Town, Robert Monro, Head of Business Development at AIM-listed Hummingbird Resources, the developer and owner of the US$88,5 million mine, said that the plant was delivering recoveries of 95 %, which is above design, and was already operating at 90 % capacity.
The first gold pour was achieved on time and on budget, bringing to a successful conclusion a programme of exploration and mine development which dates back to mid-2014 when Hummingbird acquired the project for US$20 million from Gold Fields. Given that Hummingbird – which was founded in 2005 by Dan Betts, who is the company's CEO – was very much a junior explorer at the time of the transaction, the fact that it has brought the project into production in well under four years represents a very creditable achievement.
"We promised our shareholders that we would commission the plant and pour gold by the end of 2017 and we've met that commitment," notes Monro. "As with any project, we had our share of problems during the construction period but overall the implementation proceeded very smoothly. We had a superb in-house team managing the project and we also selected our contractors very carefully, choosing companies with proven African expertise."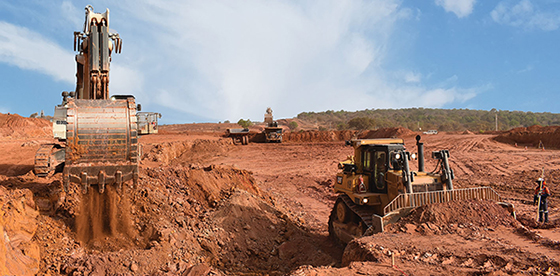 The contractors Monro refers to include South Africa's SENET, which was appointed as EPCM contractor for the process plant, African Mining Services (AMS), which has the mining contract, and IMAGRI, the civils contractor. SENET, of course, has a long and successful track-record in Africa having completed process plants throughout the continent since being founded in the late 1980s while AMS, a subsidiary of ASX-listed Ausdrill, has extensive West African experience.
Monro, who has been with Hummingbird since 2009, also mentions that logistics were easier than anticipated. "I think everyone on the Hummingbird team was surprised at how fast materials and equipment arrived on site after being delivered by ship to either Dakar in Senegal or Abidjan in Côte d'Ivoire. In all, the project required around 350 containers of equipment and, for the most part, these arrived on time.
"We did experience one setback, however, when a shipping company mistakenly sent one consignment of equipment to Angola. This was something totally outside Hummingbird's control. It impacted our progress on site but – since we were already running ahead of schedule – we were still able to complete the project within the timeframe originally set down."
Nearly 2 million man-hours were expended on the construction phase of the project, which also saw the erection of over 1 600 tonnes of structural steel and mechanical equipment, the pouring of over 4 000 m3 of concrete and the installation of over 20 km of piping.
Located in the Sikasso region of south-west Mali close to the border with Guinea, Yanfolila is a low-cost, high-grade, open-pit mine. It has 710 koz of reserves at 3,14 g/t but an overall 2,2 Moz resource at 2,4 g/t. The average annual production over a life of mine (LOM) of 7,5 years is 107 000 oz at an AISC of approximately US$700/oz. The first active pit, Komana East, is about to be joined by a second pit, Komana West, and these two will account for the bulk of ore production at the mine for the next several years. Three further pits – Guirin West and Sanioumale East and West – will be exploited starting in year 5. The LOM strip ratio is 11,9:1.
To undertake the mining, AMS – which started producing ore in August last year – has deployed a fleet of four Liebherr 9150 excavators, one Liebherr 9250 excavator, 18 Cat 777F 100-ton mining trucks and four drill rigs. Blasting is carried out using non-electric downhole delay detonators with ammonium nitrate fuel oil (ANFO) for dry holes and emulsion explosives for wet holes. AEL is providing an explosive storage and supply service to AMS.
AMS's contract is for an initial three-year period and has a total estimated value of US$112 million. Hummingbird said at the time of announcing the award of the contract that it represented an approximately 5 % improvement on the DFS estimate.
The Yanfolila ore is non-refractory and the simple process plant design utilises gravity and CIL processes for the recovery of the gold. Designed to achieve a recovery of 92,8 %, the plant has a capacity of 1,24 Mt/a and incorporates industry-standard unit process operations consisting of primary and secondary crushing, closed circuit ball-milling with gravity concentration, intensive leach of the gravity concentrate, carbon-in-leach of the gravity tailings, elution, electrowinning and smelting to produce gold doré.
Power to the mine is provided by a 7,4 MW diesel power facility which has been provided and is being operated by Aggreko on a seven-year contract. The facility was commissioned in October last year.
The current mine life is very likely to be extended, says Monro. "We have around one million ounces of gold outside the current mine plan and drilling will be undertaken during the coming year to move these resources into reserves. In time, this should extend the mine life to well over 10 years."
One of the deposits which will almost certainly be brought into the mine plan is Gonka, located just 5 km south of the plant. Although the Gonka resource was not included in the DFS, the deposit has been the subject of a scoping study level report by DRA which confirms that it provides high-grade upside for Yanfolila. DRA undertook initial underground mine design and pit optimisation work which resulted in a mining inventory of 166 koz. It is envisaged that this would mined over a six-year mine life via both open-pit (92 koz at 2,3 g/t) and underground (77 koz at 4,5 g/t) operations.
Greenfield exploration on its tenements in Mali could result in Hummingbird identifying further mill feed for Yanfolila. In addition, the company has a 33,85 % interest in Cora Gold, which recently listed on AIM and which is focused on gold exploration in Mali and Senegal. The company, whose portfolio includes exploration assets in Mali previously owned by Hummingbird, is run by veteran African explorationist Dr Jon Forster (previously with companies such as SAMAX Gold, AXMIN and Bambuk Minerals). One of its flagship projects is Sanankoro, located within trucking distance of Yanfolila.
Although Mali has now become the operational base for Hummingbird's West African activities, the company does have an excellent asset – Dugbe – in south-east Liberia. Dugbe hosts a 4,2 Moz gold resource and a PEA completed in 2013 indicated that the deposit has the ability to support a mine with a 20-year life producing an average of 125 000 ounces of gold a year. In 2016 Hummingbird delivered a hydro-electric power pre-feasibility study in partnership with Knight Piesold which showed that hydro could potentially power the mine, thereby reducing operating costs significantly. A DFS on the project is in progress and is currently being optimised.
Commenting on Dugbe, Monro says that it currently represents the best opportunity Hummingbird has to develop a second mine. "The challenge is that it needs to be built big and this in turn implies a substantial capex – in the region of US$300 million. Funding it in the present investment environment is not going to be easy. But we remain committed to the project and with Yanfolila up and running we will now be able to devote more of our energies to it. Dugbe is easily the biggest gold deposit in Liberia and virtually demands to be developed – the only real question is when this will happen," he concludes.
Report by Arthur Tassell, photos courtesy of Hummingbird