FLSmidth's incorporation of its REFLUX™ Classification (RC™) technology into modular plant formats has pushed the boundaries for higher recoveries of minerals at process stage. But a further game-changer from this global engineering Original Equipment Manufacturer (OEM) is to offer low-risk or no-risk partnerships with mines to extract more value from their mineral assets.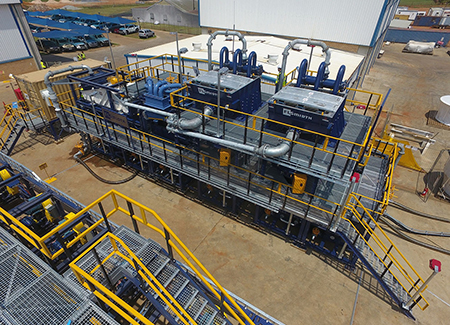 Since FLSmidth showcased its REFLUX Classifier at its Delmas Super­center last October, it is moving ahead not just with engineering the technology to treat a wider range of minerals, but to offer mines innovative contractual and financial packages to boost revenues at little or no risk to the customer.
"Our philosophy is always to provide sustainable productivity to our clients, and one avenue for this is an add-on solution to our mining customers' existing processing operations," says Roy Hazell, FLSmidth's Capital Sales Director for sub-Saharan Africa. "With our RC solution packaged into a modular plant, we offer a value-added proposition that can simply be added on to an existing operation and create more revenue for the customer, without disrupting their plant or changing its infrastructure."
The RC concept has fast been recognised as offering better recovery rates than spirals when dealing with fine particles and is much more effective in separating slurries containing minerals of varying densities.
Much of FLSmidth's initial research and development work on the application of the modular RC in South Africa has focused on the extraction of the chromite 'contaminant' from the platinum group metal (PGM) process stream on platinum mines treating UG2 ores. Often discarded as a waste product, the chromite can add considerably to the bottom line, with metallurgical grade chrome concentrate currently selling at about US$230 per tonne CIF China, and chemical grade at approximately a 10 % premium and foundry sand quality at almost twice the price of metallurgical grade chrome concentrate.
While the chromite – which can reach head grades of 23 % in the waste stream – is a welcome addition to mineral revenues, the efficient processing also reduces the chance of penalties being payable on contaminant levels in the PGM concentrate sent to smelters.
One such modular plant for the extraction of chromite has already been commissioned and is currently in ramp-up and optimisation phase. Development is underway on modular RC plants for the treatment of coal fines and the modular concept is being applied to gold processing.
"An added attraction for our mining customers, however, is the commercial partnership that FLSmidth can offer, in which we shoulder part or all of the risk involved," says Hazell. "We are so confident in the performance of our modular RC plant technology that we are prepared to install and run a modular plant on various terms, including a production share or toll treatment basis."
He notes that the capacity range for their modular units was initially targeted at about 100 t/h, but there is scope for units in the 50 to 80 t/h range. Hazell also highlights the opportunity for mining operators who have mineral reserves contained in a waste dump, but in quantities that may not warrant the construction of a full-sized process plant.
On the other end of the scale, there are clients who want to process 400 to 600 t/h of feed material to the RC, and FLSmidth can take its modular concept in this direction. Practically, this capacity range is normally associated with a fixed plant.
"For any of our customers who have dumps or stockpiles of fines that they want to recover minerals from, the modular RC solution is ideal," he says. "We can even operate the plant on the customer's behalf; no‑one knows our equipment better than we do, so we can ensure that it performs to expectation."
For those customers that choose not to purchase the whole solution, there are options such as a Rand-per-tonne toll treatment arrangement, or a production sharing scheme where FLSmidth finances the plant and takes a share of what it produces.
"Essentially, we are putting our money where our mouth is," he says. "It is this innovative thinking that defines our approach; our focus is on ways to make our customers more money and we have therefore put these different financial models on the table for customers to see what best suits them."
Outlining the benefits of the modular format, Hazell emphasises that construction takes place under controlled conditions in a factory environment with final testing before the units are dismantled and dispatched to site. This makes the on-site re-establishment process simpler, faster and less disruptive.
"Nobody wants construction activity on site at an operating mine, with all the related safety and logistical issues that can create challenges," he says. "The benefit of our modular RC plant is that it can be off-loaded on site quickly and easily, and the pipework and electrical connections quickly linked up to begin commissioning."
The concept can be adapted to a range of client requirements, he adds, and usually just needs a concrete slab to create a bunded area that will contain spillage.