Osborn Engineered Products, the South African manufacturer that has been supplying equipment to the mining industry for nearly 100 years, has a new focus on innovation and customer service. "We're in a highly competitive market and up against some of the biggest global names in mining equipment," says Managing Director Johan Goosen. "To maintain and grow our market share, we need to differentiate ourselves from the competition and offer customers the type of value they cannot get anywhere else."
Established in 1919 as a subsidiary of Samuel Osborn, a British steel company, and today a subsidiary of US-based Astec Industries, Inc, Osborn manufactures its broad range of mining and quarrying equipment in its modern factory in Elandsfontein, Johannesburg, and many of its products have become industry standards. While its main market is South Africa and its direct neighbours, its machines are to be found in use at mines all over Africa and even further afield in countries such as Russia, Turkey and Kazakhstan.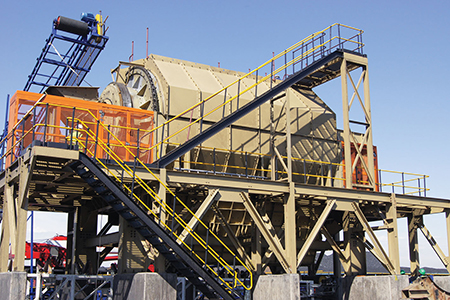 Goosen, previously a senior executive of Atlas Copco in South Africa, was appointed to head Osborn in March last year, his brief being to re-energise the company and expand market share. He has already put in place a range of initiatives which will facilitate growth for Osborn. "We're starting to partner with our customers in a way we've never done before and we're also placing a huge emphasis on technological innovation with the goal of creating 'smarter', more efficient machines," he says.
"Moreover, we have embarked on a transformation journey with the objective of reaching the status of a B-BBEE manufacturing company, as defined in Mining Charter 3. As part of this process we have engaged some key local BEE suppliers and together we are working on improving manufacturing processes that will contribute significantly to our ability to be competitive, locally and internationally."
As evidence of Osborn's commitment to innovation and partnering with customers, Goosen points to a contract which it has recently secured from an iron ore mine in the Northern Cape. "This was a very keenly contested order but we were ultimately successful because we undertook to design a new, smaller size apron feeder to meet the needs of what is a very complex installation," he says. "Living up to one of our core values – innovation – we have not only addressed the specific needs of a major mining operation, but also positioned ourselves to benefit locally and internationally, offering a size of apron feeder that our competition is currently not able to supply."
Creating a safe working environment in and around its machines has become a key consideration in Osborn's design philosophy. In line with this goal, Osborn has just announced an enhancement to its jaw crushers which makes jaw crusher liner lifting safer, faster and more efficient. The crushers now incorporate liner lifting points. This obviates the need to weld lifting lugs onto the manganese liners and eliminates the requirement for special lifting tools as standard lifting equipment can now be used.
"This is a case where we collaborated with our customers, who asked us to look at a safer, more efficient way of lifting jaw crusher liners in and out of our machines," notes Goosen. "We invested time and effort in devising a solution that has now been thoroughly evaluated out in the field and has proved highly successful."
Goosen adds that Osborn – which last year created a research and development division focusing on product improvement – is now working on an equipment upgrade and modernisation programme. "Our R&D team is out in the field, talking to our customers, taking notes and bringing back good, practical and innovative ideas from the people that use our equipment daily," he says. "What is exciting about being so agile from an R&D perspective, when compared to some of the global players, is that we can get those ideas back into the field in a much shorter time frame.
"In addition to the continuous improvement of our product offering, we also have a view on how mining will look 10 to 15 years from now and how our products will fit into the Internet of Things (IoT). Again, through collaboration with key customers, we have engaged local companies to partner with us in our drive to introduce features into our products that will allow for their seamless integration into existing information management platforms."
Commenting on the state of the market, Goosen says that conditions in mining remain tight. "Much is being said about the importance of creating regulatory certainty within the mining industry and as a supplier to 'mining SA' we are cautiously optimistic that the key role players will drive Mining Charter 3 to a sustainable conclusion in the timeframe committed to by Minister Gwede Mantashe.
"Despite the headwinds that are still evident, we are targeting 10 % growth annually and believe this is a realistic objective," he continues. "We've started the year very strongly, with our apron feeders leading the charge. Our reputation as the supplier of choice when it comes to apron feeders to the South African mining industry is now starting to open up markets for us internationally. In the year to date, we have received orders for the supply of apron feeders into Spain, Ghana and the DRC. We're very excited to have won the Spanish order, given the fact that we had to compete against all the big European manufacturers on their home turf.
"In addition to the international orders, we have secured a number of local orders where our ability and willingness to customise our offering gave us a competitive edge. An example is the supply of apron feeders to a South African coal mine that are 1,5 m x 14 m in size and have been customised to meet the client's requirements. Features include special paint, galvanising and guards, customer-specific drives and tailormade auto lubrication systems."
Osborn's line-up of locally designed and manufactured equipment supports each step within the comminution process. Apart from the popular apron feeders (which can be supplied with either electro-mechanical or hydraulic drives), the company offers jaw and cone crushers, roll crushers, mineral sizers, grizzly feeders, rotary breakers and vibrating screens, all manufactured at the Elandsfontein facility and all with a reputation for toughness and durability.
The single biggest unit the company manufactures is the Hadfields 80 x 60 single toggle jaw crusher which can handle up to 2 m x 1,5 m feed size and throughputs in excess of 1 600 t/h. The 140-tonne machine has carved out an impressive market share in the coal mining industry in particular where, says Goosen, it is regarded as the primary crusher of choice.
Osborn also, of course, has access to all the equipment designed and manufactured by its sister companies within the Astec Industries group. Says Goosen: "The bulk of our turnover comes from our South African-manufactured equipment – which is designed to cope with our local rock conditions which differ considerably from those typically encountered in the US – but we do represent all our sister companies, including KPI-JCI and Telsmith. Currently, for example, we are quoting a South African customer on a mobile crushing plant. If successful, we would import this in its entirety from KPI-JCI in the US."
Finally, Goosen mentions that the aftermarket remains a key part of the Osborn business. "We're installing machines that can last for decades so servicing them and supplying spares is extremely important to us – it accounts for a major part of our revenue. In all honesty, we have lost some business to third-party suppliers – particularly on wear parts – but we're determined to regain this. We're working very hard to ensure that our pricing and levels of service are such that customers never feel the need to look beyond Osborn. We're not quite there yet but we're making good headway and we see the aftermarket as a significant area of growth for the company going forward."
Report by Arthur Tassell, photos courtesy of Osborn