February is always Mining Indaba month and in this issue Modern Mining reports on the event, now in its 23th year. Although the numbers seemed slightly down on previous years, the overall mood was relatively buoyant with most delegates that Modern Mining spoke to saying that they believed the worst of the mining recession was now in the past. As always, there was a host of top notch speakers at the event, some of whose presentations we cover in our round-up of the proceedings. Download the pdf here.
An interesting innovation at this year's show was the 'Investment Battlefield Competition', an initiative which allowed small-cap mining exploration companies to pitch their projects – each was given around five minutes – to a panel of expert judges. The winning company was Consolidated Nickel Mines (CNM), which is planning to reopen the Munali underground nickel mine in Zambia, while the runner-up was Sula Iron & Gold, which has the Ferensola project in northern Sierra Leone, which it says is highly prospective for gold, iron ore and coltan.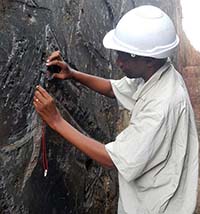 With graphite projects now all the rage in Africa, it is not surprising that one of the projects we cover in detail in this issue is Lindi Jumbo in south-east Tanzania. The developer, ASX-listed Walkabout Resources, has just published a Definitive Feasibility Study (DFS) on the project which it hopes to have in production early next year. Read more...
The DFS envisages a relatively small (40 000 t/a of graphite concentrate) mine which would have a commensurately low capex (US$38,7 million) with payback expected in just 22 months. A distinguishing feature would be that up to 50 % of the graphite in the concentrate would be in the high value Jumbo and Super Jumbo categories.
Lucapa's bid for Mothae proves successful
ASX-listed Lucapa, a partner in the highly successful Lulo diamond project in Angola, is acquiring the Mothae kimberlite project in Lesotho. It says it will be adopting a staged approach to development of Mothae with Phase 1 targeting a treatment rate of 720 000 t/a. Lucapa believes Phase 1 can be producing within 12 months of acquisition.
Randgold delivers record gold production in 2016
Randgold Resources reports it increased production for the sixth successive year in 2016 while reducing total cash cost per ounce. The flagship Loulo-Gounkoto Complex in Mali set a blistering pace to exceed its annual guidance by 37 000 ounces and solid performances from the other mines contributed to the record group production of 1,25 Moz.
Babcock upbeat on prospects
In our cover story, David Vaughan, MD of Babcock's Equipment business, the Southern African dealer for both Volvo Construction Equipment and Terex Trucks, says he is very optimistic on the prospects for 2017 and beyond and reveals that the first Volvo A60H articulated haulers will soon be delivered to a South African customer. The A60-H has a capacity of 55 tonnes and is the biggest articulated hauler in the Volvo line-up. Read more...
Chrome recovery plant launched at Amandelbult
Anglo American Platinum launched a chrome recovery plant at its Amandelbult Complex in Limpopo Province in early February. The new facility represents an investment of R474 million and has the capacity to produce up to 700 000 t/a of commercial grade chromite concentrate. Read more...
Maptek grows strongly in Africa
Maptek, the Australia-based company whose flagship product is Vulcan, a 3D modelling and mine design package, has established a strong footprint throughout Africa. We talk to Nick Venter, GM Africa, who reports that Maptek is growing strongly across the continent with 2016 counting as one of its best-ever years. Read more...