This month's issue has a big focus on West Africa, with articles appearing on the Tongo-Tonguma kimberlite dyke project in Sierra Leone, the buoyant gold mining scene in Burkina Faso, the two-stage Asanko Gold Mine expansion in Ghana and the Sanaga iron ore project in Cameroon.
In our extensive News section, we cover Birrell Mining's Klipwal gold mine in KZN, NextSource's Molo graphite project in Madagascar, Orca Gold's Block 14 gold project in Sudan, and the Kwale and Mutamba mineral sands projects in Kenya and Mozambique respectively.
Comment – The story behind AK6 and the Karowe diamond mine
The Karowe diamond mine in Botswana – which exploits the AK6 kimberlite – has generated over a billion dollars in revenue since starting production in 2012. So why did De Beers relinquish its share in the project in 2009 for just US$49 million? Download the PDF.
Diversified Minopex looks to double in size
Established in 1996 to undertake the operation of processing plants on a contract basis, Minopex has since grown its skill-set dramatically and has also expanded its geographical footprint outside of its traditional Southern African area of operation. Download the PDF.
Savannah completes positive Scoping Study on Mutamba
Savannah Resources has completed a Scoping Study on its Mutamba mineral sands project in Mozambique which reveals its potential to produce 456 000 tonnes of roasted ilmenite and 118 000 tonnes of non-magnetic concentrate annually. Download the PDF.
Liquidation of BCL leaves Norilsk Nickel in limbo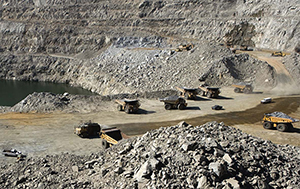 With Botswana's BCL now in provisional liquidation, the status of its deal to buy Norilsk's African assets – Tati Nickel and a 50 % stake in the Nkomati mine – is totally unclear. The matter is now moving into the courts in Botswana. Download the PDF.
PPM appointed to undertake Tongo-Tonguma FEED study
Stellar Diamonds has entered into a contract with Paradigm Project Management (PPM) for the FEED study for the underground mine development of the Tongo-Tonguma kimberlite dyke project in Sierra Leone. Download the PDF.
Burkina Faso emerges as a gold-mining powerhouse
Roughly a decade Burkina Faso did not have a single modern commercial-scale gold mine and cotton was the country's main export commodity. Today there are 10 gold-mining operations in the country and gold now accounts for over 60 % of total exports. Download the PDF.
Asanko DFS confirms robust two-stage expansion plan
Asanko Gold Inc has announced the positive results of Definitive Feasibility Study (DFS) on a staged expansion at the Asanko Gold Mine (AGM) in Ghana. The expansion comprises two growth projects, Project 5 Million and Project 10 Million, which have a combined estimated capital cost of US$350 million. Download the PDF.
Dry-type transformers gain traction in Africa with Trafo
While oil-filled transformers have long dominated the African market, Trafo Power Solutions MD David Claassen says there is growing appetite and scope for the application of dry-type transformers in the continent's mining sector. Download the PDF.
Energy efficiency can offset the high cost of self-supply
A major cost for mining ventures that start operations in remote areas is their independent power supply. This cost can be mitigated, however, if mine owners look carefully – and at an early stage – at ways of utilising energy more efficiently. Download the PDF.