Botswana is the subject of our country focus this month and this extensive section of the magazine includes a comprehensive review of the recent Botswana Resource Sector Conference (BRSC) in Gaborone, as well as articles on the T3 copper/silver project of MOD Resources/Metal Tiger and the coal portfolio of Shumba Energy, whose projects include Mabesekwa, Sechaba and Morupule South.
In our News section, we cover Prospect Resources' Arcadia lithium project near Harare in Zimbabwe, the Balama graphite project in Mozambique, the Lindi Jumbo graphite project in Tanzania and the Prieska-Zinc-Copper Project (PC Project) in South Africa's Northern Cape Province.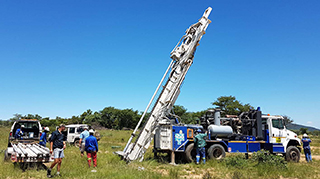 Diamond exploration in both Botswana and South Africa comes under the spotlight in an article entitled 'Junior diamond explorer looks to repeat past success'. This is a profile of Botswana Diamonds, whose licence areas include an area near the famous Marsfontein mine in South Africa, as well tracts of highly prospective ground in the Central Kalahari of Botswana.
Comment – More body blows to an already embattled industry
The past few weeks have not been good ones for South African mining. Jobs continue to be shed at an alarming rate while the proposed revised Mining Charter threatens the industry's very viability. Read more...
Pre-Feasibility Study completed for Arcadia lithium project
ASX-listed Prospect Resources is planning to develop its Arcadia project 38 km east of Harare in Zimbabwe as an open-pit operation producing high-quality spodumene, petalite and tantalite concentrates. The estimated capex is US$52,5 million. Read more...
Balama graphite project in the finishing straight
Australia's Syrah Resources reports that its US$193 million Balama graphite project in northern Mozambique was 90 % complete as at the end of June this year with first production expected in August. Read more...
Next generation jumbo for Black Mountain
Our cover story focuses on Sandvik's DD422i mining jumbo. Vedanta's Black Mountain mine in the Northern Cape is to take delivery of one of the new generation machines later this year. Read more...

Junior diamond explorer looks to repeat past success
The team that can claim much of the credit for having recognised the potential of Botswana's AK6 kimberlite and devising a low-cost strategy to bring it into production has been reunited at junior explorer Botswana Diamonds. Read more....
Study reveals low capex and opex for Malingunde
A Scoping Study on Sovereign Metals' Malingunde graphite project in Malawi shows it has capital and operating costs per unit at the very bottom of the graphite supply cost-curve. The study envisages that Malingunde would produce about 44 000 tonnes of concentrate annually over an initial life of 17 years. Read more...
Botswana's mining industry on the back foot
The collapse of nickel-copper producer BCL and the closure of two of the country's smaller diamond mines have left Botswana's mining industry in disarray. On the positive side, two proposed new copper mines in the Kalahari Copperbelt are being vigorously pursued by MOD Resources and Cupric Canyon. Read more...

T3 discovery well on the way to becoming a mine
ASX-listed MOD Resources, in conjunction with its JV partner, AIM-listed Metal Tiger, is moving at speed to develop its T3 deposit in north-western Botswana as an open-pit copper/silver mine. First production is planned for late 2019 or early 2020. Read more...

Shumba plans to fast-track Mabesekwa into production
According to its Chairman, Alan Clegg, Shumba Energy is hoping to be in production with its advanced Mabesekwa coal project in Botswana in the second half of 2018. Shumba has three advanced thermal coal projects in the country with a total coal inventory of 4,5 billion tonnes. Read more...