Pride of place in this issue goes to our annual 'Africa's Top Mining Projects' feature. This year we've selected five projects, three in South Africa and two outside our borders, all of them notable for their size, innovation or pioneering spirit. They are the Ity CIL gold project in Côte d'Ivoire, the Bisie tin mine in the DRC, and – in South Africa – the Venetia Underground Project (VUP), the new processing plant at the Cullinan diamond mine, and the Booysendal South expansion at Northam's Booysendal platinum mine.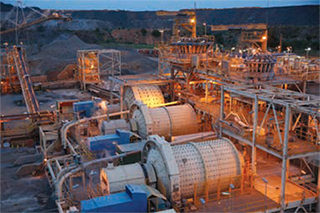 In our crowded news section, we update on the activities of Teranga Gold, which owns the Sabodala gold mine in Senegal, and SEMAFO, which is well advanced with the construction of its US$231 million Boungou gold mine in Burkina Faso. We also report on upgrade work at a hydropower plant which will supply power to Ivanhoe's Kamoa and Kakula copper mines in the DRC and on the latest developments at Battery Minerals' Montepuez graphite project in Mozambique.
Comment – Mozambique's graphite boom
The US$200 million plus Balama mine of Syrah Resources in Mozambique's Cabo Delgado Province is the first entirely new graphite mine to come on stream in the country but is unlikely to be the last. At least another two projects – Montepuez and Ancuabe – are shaping up to be mines with both targeting production in 2019. Read more ...
BME ready for the upturn
Explosives supplier BME is well placed to take advantage of a recovery in the mining sector, having focused over the past couple of years on a range of initiatives designed to enhance overall operational excellence. We interview MD Joseph Keenan. Read more ...
Junior mining to feature strongly at Mining Indaba
This year's Mining Indaba, to be held in Cape Town from 5-8 February will be featuring a new Junior Mining Showcase, which will bring together around 45 emerging mining companies active in Africa. The event will also have a strong focus on sustainability in mining. Read more ...
Endeavour's Ity CIL project will create a flagship asset
Cote d'Ivoire's Ity gold mine, the country's oldest active gold mine, is to transition from a 950 kt/a heap leach to a 4 Mt/a CIL operation. The US$412 million project – due for commissioning in mid-2019 – will result in the mine's gold production increasing from approximately 75 000 to 80 000 ounces a year at present to as much as 235 000 ounces a year. Read more ...
Alphamin's Bisie tin project takes off
Alphamin has made impressive progress on its new Bisie tin mine in the DRC and first production is expected next year. Modern Mining was recently part of a small media group that visited the project, which is located in the depths of the Walikale Forest in North Kivu Province and is accessed by a 38 km road built by Alphamin. Read more ...
Venetia will be a high-tech pacesetter
The US$2 billion Venetia Underground Project (VUP) of De Beers, thought to be the biggest mining project currently underway in South Africa, is continuing to make excellent progress and is expected to start producing ore in 2021, more than a year earlier than originally anticipated. Once commissioned, the VUP will rank as one of the most automated mining operations in the world as it will deploy a full fleet of autonomous trackless mobile machinery. Read more ...
Petra's new processing plant a 'gentle giant'
Commissioned in September last year, the new processing plant at Petra's Cullinan diamond mine – capable of treating 6 Mt/a – achieves comminution through attrition rather than the less forgiving high-impact crushing used in the past. The new water- and energy-efficient facility replaces a sprawling, 26 ha plant dating back to the 1940s. Read more ...
Northam's internal growth engine: Booysendal South
Over the years up to 2022, Northam Platinum will be investing R5,6 billion in capital expenditure into its Booysendal South project. The new mine is expected to ramp up to a production of between 250 000 oz and 300 000 oz of refined platinum group metals (PGMs) each year, taking the total output of the future Booysendal (North and South) operation to 500 000 oz/a. Read more ...