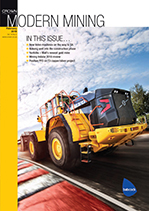 Featured in this issue are a review of the recent Mining Indaba in Cape Town, as well as articles on the Nokeng fluorspar project in South Africa, the T3 copper-silver project in Botswana and Yanfolila, Mali's newest gold mine.
In our cover story, we look at new machines coming from Babock, the local dealer for Volvo Construction Equipment (Volvo CE) – specifically Volvo CE's latest and biggest wheel loader, the L350H, and its newly announced and eagerly anticipated range of rigid haulers.
Our news section includes updates from mines and projects across Africa including the Bakubung platinum mine in South Africa, the new Sissingué gold mine in Côte d'Ivoire, the BK16 diamond project in central Botswana, the Namdini gold project in Ghana and the Loulo-Gounkoto gold mining complex in Mali.
Comment – Zimbabwe poised to benefit from the demand for lithium
Zimbabwe's only operating lithium mine, Bikita, could soon be joined by up to three new operations, namely Arcadia, Zulu and the Kamativi tailings. The most advanced of these three projects appears to be Arcadia, which is being developed by ASX-listed Prospect Resources. Read more …
New Volvo machines on the way to South Africa
Babcock, the Southern African dealer for Volvo Construction Equipment (Volvo CE), is anticipating the arrival in South Africa shortly of Volvo's new flagship wheel loader, the L350H. In addition, the company expects to introduce Volvo CE's newly announced rigid hauler range later this year. The range includes the all-new E-Series R100E, a 100-ton class machine. Read more …
Nokeng – drawing SA into the global fluorspar big league?
Modern Mining recently visited the Nokeng project of SepFluor, now well into the construction phase after the first ground was broken in August last year. Located near Rust de Winter in northern Gauteng, the mine is being built by a joint venture of Group Five and DRA. Nokeng could be complemented by an aluminium tri-fluoride (AIF) beneficiation facility in nearby Ekandustria. Read more …
Yanfolila gallops out of the starting gate
Mali's newest gold mine, Yanfolila, which poured its first gold in December 2017, is performing strongly as its ramps up to a production of 132 000 ounces in its first full year of operation. The plant – built by South Africa's SENET – is delivering recoveries of 95 %, which is above design, and is already operating at 90 % capacity. Read more …
Improved political outlook lifts the mood at the Mining Indaba
While South Africa's mining industry remains depressed, the prospect of political change in the country seemed to lift the mood of delegates at the recent Mining Indaba in Cape Town. Modern Mining reports on the event, which also saw a new focus on the junior mining sector. Read more …
Venetia project picks up pace
Speaking to Modern Mining recently, Phillip Barton, Chief Executive of De Beers Consolidated Mines (DBCM), said the US$2,1 billion Venetia Underground Project (VUP) was running slightly ahead of schedule and well within budget. He noted that rates of advance on the decline development and the vertical shafts had improved substantially since the start of the project. Read more …
PFS on copper/silver deposit delivers "outstanding results"
Australian junior MOD Resources has reported the results of a pre-feasibility study (PFS) for a proposed open-pit mine and copper concentrator at its 70 %-owned T3 copper-silver deposit in the 'Kalahari Copperbelt' of Botswana. The PFS considers both a Base Case, which would see a plant throughput of 2,5 Mt/a, and an Expansion Case, which envisages a processing rate of 4 Mt/a. Read more …
Future technologies to feature at bauma CONEXPO AFRICA
The bauma CONEXPO AFRICA trade show, to be held at the Johannesburg Expo Centre from March 13 to 16, 2018, is expected to attract more than 400 exhibitors and 20 000 visitors and – according to the organisers – will feature a supporting programme designed to give attendees "a comprehensive overview of the technologies of the future."Read more …