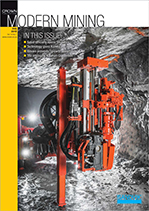 The difference that technology and efficient mine planning can make to the operating margins of mines is well illustrated by the initiatives that Kumba Iron Ore has taken its Sishen and Kolomela mines in the Northern Cape. At Sishen, for example, the current fleet of mining trucks is significantly smaller than it was in 2015 and yet is handling more material, as our article on Kumba in this issue explains.
Across border in Botswana, we look at developments in the Kalahari Copperbelt where two companies are planning substantial new copper/silver mines. One, the Khoemacau project of Cupric Canyon, will cost US$391 million to develop and will have an initial capacity of 60 kt/a of copper and 2 Moz/a of silver.
Readers of our comprehensive news section should look out for our story on Resolute Mining's Syama Underground project in Mali, which is shaping up to be a true 'Mine of the Future', with high levels of automation. Resolute is partnering with equipment supplier Sandvik, with the latter supplying a full fleet of underground trucks and loaders. Sandvik's TH663 truck in autonomous mode will be used for ore and waste haulage.
Comment – Tati Belt's mysterious wall
Mike Main, the author of a number of books on Botswana, is looking for help from Modern Mining's readers. He has come across a wall, which he describes as a "remarkable structure", in the Tati Greenstone Belt near Francistown and is trying to pin down when it was built, by whom and to what purpose. The wall is located close to the site of 'Old Tati Town', a small gold mining settlement which sprung up in the late 1860s and which was finally abandoned in the 1890s. Read more …
Automated low-profile cable bolter launched by Sandvik
Sandvik has launched the DS221L rock reinforcement cable bolter with one-hole drilling, which it believes will significantly improve safety and productivity in underground mining operations. The prototype machine was developed in close collaboration with the Two Rivers platinum mine in South Africa, where it underwent a successful 12-month trial. In digitalised environments the rig is compatible with Sandvik's OptiMine® monitoring system. Read more …
Sasol inaugurates Shondoni
Sasol has officially opened its new R4,5 billion Shondoni colliery in Mpumalanga as part of its R14 billion mine replacement programme. Distinguishing Shondoni from Sasol's other collieries is the use of renewable energy, which includes the use of solar geysers, heat pumps and maximum utilisation of natural light. The mine also holds the record of having the longest – at 21 km – single flight conveyor without an intermediate booster drive in Africa. Read more …
Bibiani presents a "compelling growth opportunity"
ASX-listed Resolute Mining reports that it has finalised an update (Study Update) to its 2016 Feasibility Study on the Bibiani gold mine in Ghana. According to Resolute, the Study Update demonstrates that Bibiani, one of the country's oldest mines, has the potential to produce 100 000 ounces of gold a year over a 10-year life and confirms that the project presents a "compelling growth opportunity" for the company. Read more …
Technology drives down costs at Kumba
Over the past several years, South Africa's leading iron ore producer, Kumba, has responded to the weak iron ore price by introducing a series of state-of-the-art – but proven – technologies at its two Northern Cape mines, Sishen and Kolomela, which have boosted productivity and driven down operating costs. Modern Mining was able to see some of the new technology when it visited Sishen recently. The mine is one of the largest open-pit operations in the world, moving well over 200 Mt of material a year. Read more …
Kalahari Copperbelt about to realise its full potential
After a false start with the Boseto open-pit mine of Discovery Metals, Botswana's Kalahari Copperbelt is on the brink of realising its early promise, with two new mines – the T3 (Motheo) project of Tshukudu Metals Botswana and the Zone 5 project of Khoemacau Copper Mining – on the horizon. T3 – which is still awaiting a final development decision – will initially be an open-pit mine while Khoemacau is planning a mechanised underground mine at Zone 5, with early construction works due to start later this year. Read more …
The incredible Karowe story
Author Mike Brook, who has a number of publications on Botswana to his credit, looks at Lucara's Karowe diamond mine, located in the Orapa Kimberlite Field of Botswana. He summarises its history and its phenomenal record as a producer of large gemstones, including the second biggest diamond ever found, the 1 109-carat Lesedi La Rona, which was recovered at the mine in late 2015. Read more …