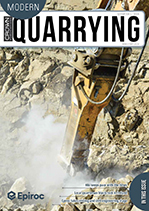 Modern Quarrying's Q1 / 2018 issue is in print. To see what this issue contains, simply click on the headline and you'll be directed to the full article.
Epiroc takes mining and civil engineering stage
To enable further growth, Atlas Copco has emerged into two separate groups of companies, Atlas Copco and Epiroc. Globally, the entire Mining & Rock Excavation Technique Business Area together with the Hydraulic Attachment Tools Division of Atlas Copco has become part of Epiroc, while the industrial segment remains with Atlas Copco. Building on 144 years of history, Epiroc's roots are in Atlas Copco, a company known for sustainability, innovation, high ethical standards and quality products and service.
In this issue
• Unroadworthy truck stats on the rise
Here MQ's editor looks at the increasing number of unroadworthy trucks on the roads. This became a personal issue when, in December last year, her pregnant daughter, son-in-law and 17-month old grandchild were involved in what might have been a fatal road accident. This was caused by a five-ton truck losing control, and veering across the highway causing a major pile up on both sides of the highway, with several cars involved. The truck's vehicle license had long expired as had the roadworthy certificate and to date, the owner has not been cited for contravening the law.
• H&I group keeps its head up in difficult times
Great Karoo Crushing (GKC) was formed in 1999 as a joint venture between Haw & Inglis (H&I) and the then Worcester-based Prima Klipbrekers (Afrimat) to fulfil the material requirements of H&I road construction contracts. MQ finds out more about the wholly-owned subsidiary and provides an update on some of the projects it is involved in.
• Local quarryman blasts rock in Ireland
It is always good to hear about our quarrymen who have done well in other parts of the world, and chatting to Rod Taylor who, some 16 years ago left our shores for the Emerald Isle, is no exception. His Killala Rock Quarry is situated in the beautiful Mulafarry area of Killala County Mayo, and it is here that Rod is "living his dream".
• Scania solutions tailored for optimal uptime
Vehicles in Scania's construction range are rugged, robust and reliable. Known for their excellent manoeuvrability and handling, they are well suited for hard work in the most challenging conditions. Key benefits include reliable back up, increased payload and impressive fuel savings – all of which was confirmed by MQ's recent visit to a key customer in Durbanville, Cape Town.
• Aspasa – the voice of the industry
For any surface mining operation, the question of whether or not to join an association is an important one. An important consideration must be the cost to company. As far as being a member of this globally renowned association is concerned, the benefits offered by being part of a collective and powerful voice in the industry far outweigh the membership fee.
• Conveyor belt safety in the 21st Century – Part II
Part I of the above paper published in the November 2017 issue of MQ discussed the reasons behind health and safety legislation, the relationship between the employer and the employee and important sections of the Mine Health and Safety Act. Part II in this issue takes the history of the development of mining health and safety legislation further.
Our regular Industry Report looks at: BME, which has set a new world record for blasting; Wits Mining attains ECSA approval; AfriSam, which despite the downturn continues on its quality path; CESA's ongoing development of business skills; and the signing of a mechanised mining partnership.
MQ's Marketplace carries articles on: a paint innovation designed for safety; a tough hydraulic excavator which is proving its worth; Liviero Mining choses top performer; robust vibrating screens; and last but not least, an improved material flow for concrete trucks.
And in Last Blast for the Q1 magazine, we publish a tongue-in-cheek, no-nonsense look at water savings in the water-strapped Western Cape.