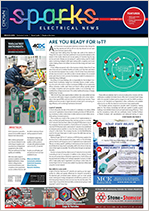 Front Cover Story
The 'Internet of things' (IoT) is changing the way we live and work. Electrical contractors who skill up and adjust the way they operate will stay relevant and grow as IoT opens up new business opportunities. For example, IoT systems are already being used for smart meters, helping citizens use resources like energy and water more efficiently. As connected power grids become common, the business model of electrical contractors is gradually being challenged, and electricians will have to invest in new skills in order to keep up with the demands of running a business in the IoT era.
Personality of the Month
Johan Basson, managing director of JB Switchgear Solutions, has a long and successful track record of more than 40 years in the industry.
Johan has been involved in large projects for major companies but considers his greatest accomplishment the management buy-out of his previous company, RBF Technology, and making it into one of the largest panel building concerns in South Africa. His bucket list includes undertaking an extended motorbike tour through Europe or America; exploring Namibia; and attending the 'Goodwood Festival' in the UK.
Columns
A good maintenance person is worth paying for, says Terry Mackenzie Hoy. In his column, Terry focuses on lighting and discusses various lamps and their maintenance issues. He points out common errors made by people who don't know enough about lighting or lights. Terry recommends that we do not ask lighting suppliers or interior designers what lights to install but, instead, ask a good lighting technician or an experienced electrician. His golden rule: make the Monday before 16 December fluorescent re-lamping day!
The transfer of skills from one generation to the next is an age-old and vital business tradition. It is, however, not as easy to mentor or coach a young apprentice as it sounds. In his column, Nick du Plessis has compiled a step by step process that will assist both the coach and the learner to get the best out of a mentorship programme.
Contractors' Corner
This regular feature contains industry news and articles highlighting the latest products on the market.
Buyers' Guide
The October Buyer's Guide lists manufacturers and distributors of products and services that cover motor control centres and motor protection.