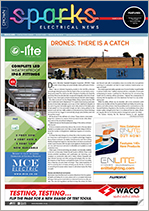 Drones: There is a catch
Dynamic Remotely Operated Navigation Equipment. DRONES. These wonders of technology are systematically entering all facets of industry. Franz Fuls of Compact Aerial Services discusses how electrical contractors can embrace this technology, but also delves deeper into the legal implications set out by the South African Civil Aviation Society and the National Aviation Safety Board. Before you take to the skies, illegally, take note of the risks and possible consequences.
Personality of the Month
It is not very often that you come across someone who has been in the electrical industry for longer than most of us have been alive. Brian Lavery, founder of Midrand-based Swan Electrical Distributors, an equal opportunity electrical distributor which supplies quality electrical products and services to the electrical wholesale industry, has lived and breathed electricity for 72 years. In the process he has started numerous companies, supplied products across Africa, become the first person to source and import miniature circuit breakers from China, and had a hand in writing the regulations for the industry.
Column: Developments in circuit breakers over the years
Terry Mackenzie Hoy started in engineering when he was 26-years-old and is now 62. In this time he has seen many developments in 11 000 V circuit breaker technology, and in this issue he shares some of them with our readers.
Tools of the trade
When it comes to multimeters and component testers, what is the difference between counts and digits, and what do they represent? For professional work, products may have all the same specifications, but when it comes down to accuracy, resolution, counts and some of the other quality features which a product might have, that's where the decision can be made on which to purchase.
Buyers' Guide
The March Buyers' Guide lists manufacturers and distributors of products and services that cover tools and instruments.