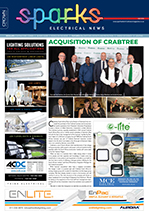 Acquisition of Crabtree
Crabtree South Africa (Pty) Ltd (a Division of Siemens) has concluded the purchase of the Crabtree business and its associated Lesotho operations from Powertech Industries (Proprietary) Limited, a division of Allied Electronics Corporation Limited (Altron).
The Crabtree business, originally established in 1947, named Crabtree South Africa (Pty) Ltd, is a wholly owned subsidiary of Siemens (Pty) Ltd, with the day to day management of the business handled by Electrium Sales Ltd., a Siemens company. Crabtree is one of South Africa's chief manufacturers of low voltage wiring accessories, cable systems and power cords and predominantly operates within the South Africa construction.
Personality of the Month
Raja Moudgil, Philips Lighting Country Leader for southern Africa and Ghana, joined the company just before the turn of the millennium, and after almost two decades growing the company in his native India, he has now embarked on a new challenge in South Africa where he is aiming to ensure that LEDs become a standard across the region. "It is an amazing country with a very rich culture and a lot of diversity. There has been a huge amount of learning interacting with different types of customers from the different, diverse cultures. There are huge growth opportunities in the region," he says.
Column: Variable Speed Drives
When Terry Mackenzie Hoy started work in his 20s, there was no real way of varying the speed of an ac motor. It was not too difficult to vary the speed of a dc motor – you just adjusted the field voltage or the armature voltage or both. Yet ac motor speeds were difficult to adjust. The desirability of adjusting ac motor speeds was one of cost – dc motors were more expensive and had higher maintenance costs compared to ac motors. Read more...
IEC 61439: who is responsible for proving compliance?
Users or specifiers of low voltage assemblies in the market today should understand that it is the responsibility of the assembly manufacturer to prove compliance and take full responsibility for the completed assembly. However, the user or specifier is required to have a basic understanding of the standard, the concepts, the parameters and the verification methods to ensure that the proof of compliance presented by the assembly manufacturer is acceptable.
Buyers' Guide
The May Buyers' Guide lists manufacturers and distributors of products and services for the energy efficiency industry.