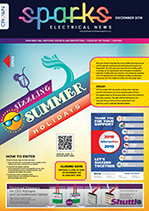 We have almost reached the end of 2018 and many of you will be taking a welcome and well-deserved break over December. To help ease your way into the holiday spirit, a number of our advertisers have donated a wonderful selection of gifts that you stand to win by entering our Sizzling Summer Holiday competition. See the December issue for all the details.
In the news this month, members of the lighting industry recently gathered for an information session in Pretoria held jointly by the National Regulator for Compulsory Specifications (NRCS), the Department of Energy (DoE) and the United Nations Development Programme (UNDP). Information shared was around the planned regulation of general service and directional lamps for general illumination using incandescent, halogen, fluorescent, high intensity discharge, LED, and other light sources. The significance of the topic was clearly evident from the overwhelming attendance, and the room quickly filled beyond capacity with major players from the lighting industry. There is no doubt that regulation of the lighting industry is sorely needed, and Sparks Electrical News will be following this topic closely over the coming months.
In this issue, Sparks Electrical News focusses on DBs, Switches, Sockets and Protection, Tools of the Trade and Lighting.
Personality of the Month
Kruben Bennie, Head of Business Unit – Low Voltage Control Products at Siemens, is passionate about many things, including empowering South Africa's youth and the possibilities digitalization can offer the industry.
Essential tools for the modern electrician
In two recently published profiles of electrical contractors in Sparks Electrical News, both electricians said the one tool they could not live without, was a multimeter. Digital multimeters are designed to help tradespeople do their jobs faster, more efficiently and with greater accuracy. There are models available for every budget and application. "Complete multimeters are the way to go," says Werner Grobbelaar, General Manager of the Major Tech division. "They give you all the features you need; volts, amps, resistance, continuity and, with Bluetooth, they offer instant reporting via your phone, which can prevent costly downtime.
Working knowledge with Terry Mackenzie Hoy
Motor control circuits have been around for decades, much without change. Having said this, there are various people in the industry who will insist on 'fiddling' with established circuit design. They fit the motor control circuit with smart electronics that count the number of times the motor starts and send the value of the motor current via a telemetry link to a control room which has pretty diagrams showing how the motors in the plant are operating… all of which is unnecessary. Simple is better. Simple is reliable. Simple circuits work well.
Buyers Guide
The December Buyers' Guide lists manufacturers and distributors of products and services for lighting luminaires.