Having recently completed a turnkey project to design, manufacture and commission a large coal crushing plant for an Mpumalanga-based colliery, B&E International is increasingly broadening its scope beyond its traditional hard rock environment into the coal sector.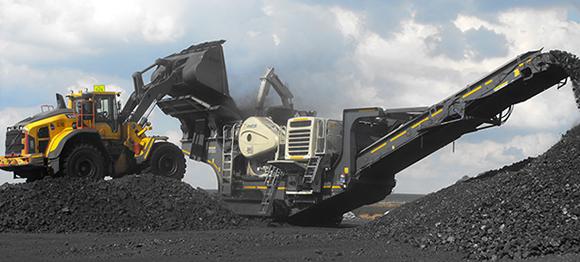 Crushing at a coal customer's site in Kriel.
According to Sandile Mazibuko, Director of Operations at B&E International, the company first broke into the coal sector some 15 years ago and has processed at least 25 million tonnes since then at more than 30 sites around South Africa's coalfields.
"We probably process about 4,8 million tonnes a year currently, using our static and mobile plants," he says. "The resultant product is for export and thermal markets and comes from both opencast and underground operations."
The 1 000 tonne per hour coal crushing plant in Mpumalanga, he says, is a demonstration of the company's capability to deliver engineering, procurement, construction and management (EPCM) projects to the coal sector, with a considerable cost benefit to the customer. "We are now even able to provide rehabilitation services as part of our offering," says Mazibuko.
A member of the JSE-listed Raubex Group, B&E International is a well-established player in hard rock crushing and screening, with extensive in-house capacity to design and manufacture both mobile and static plants.
"One of our main advantages is the flexibility we can offer our customers in terms of both their equipment specifications and their operating model," he says. "While our offerings of mobile crushing plants are generally well known, we also design and construct larger static plants to suit customers' exact requirements and can even operate their plant for them."
In addition to its technical capability and project expertise, B&E International has also developed innovative partnership solutions to meet growing requirements for local economic participation in coal projects. Small and large coal operators face growing expectations in their local economies to ensure more positive spin-off from the benefits of mining.
"For many years, every mine's Social and Labour Plan has encouraged the spread of benefits to local businesses and communities and this requirement for local economic empowerment has been reinforced by Eskom," he says. "We have therefore partnered with local suppliers in coal mining areas to help provide the necessary technical support they need when offering services to coal mines. This gives greater assurance to the end-customer – the mine – while building the capacity of local small businesses to perform in line with expectations and to grow their sustainability."
B&E International, in partnership with local entrepreneurs, is even setting up an office in the Mpumalanga town of Belfast, to be closer to customers and to take a more hands-on approach to supporting partners in the coalfields.
"Our partnerships with small and medium-sized enterprises in these areas is our way of contributing to local economic development, as we work closely with them in terms of skills transfer and capacity-building," he says. "This process of collaboration and mentoring has become more critical as mines work towards sourcing more suppliers from within the province, the district municipal area and the local municipal area in which they operate."
He highlights that the necessary skills and technical capacity available to mines obviously becomes more scarce as the procurement zone is tightened up, making it vital for well-resourced partners to step in and share their knowledge and experience.
"The coal mines also have increasing pressure on their levels of efficiency and safety, and so there are onerous requirements on their suppliers to meet health, safety and compliance standards," says Mazibuko. "As B&E International, our experience as a sub-contractor allows us to assume much of this responsibility from the customer, and also to bring our local small business partners up to speed – a task that often falls to the mine itself."
In addition to designing, building and commissioning plants, the company offers a build-own-and-operate (BOO) package and can even toll-process on behalf of customers to reduce their capital outlay and operating risk.
"The advantage of our considerable project capability is that we can cater for various sizes of plants, whether for major mining operations or for the smaller coal operator with requirements down to 150 t/h," says Mazibuko.
An important application for its coal crushing and screening plants has been in circumstances where a mine needs stand-in equipment during an emergency or a scheduled plant shut-down for upgrading.
"Here, customers need to maintain their high production rates during these stoppages, and we can provide a single source solution to ensure that mine profitability is not affected," he says. "Our experience in the design, fabrication and operation of plants gives us the ability to meet the output expectations with high up-time rates and on-site support."
Its close involvement with stockpile management and materials handling on coal customers' sites has also led B&E International to gather a considerable depth of expertise in the field of mine rehabilitation. With its own trained operators, and fleet of key equipment such as hydraulic excavators, front-end loaders, articulated dump trucks and water bowsers, the company can offer its rehabilitation services alongside mining operations or after mine closure. Even ancillary equipment such as compactors can be supplied and operated.
"With increased focus on safety, health and environment, combined with local economic development, B&E International can help coal mining customers address all these issues, alongside our cost effective technical and operational crushing and screening solutions," says Mazibuko.