The ISF 2,8 and 3,8 litre four-cylinder engines are the latest additions to Cummins' extensive range of engines, and are ideal for use in light commercial vehicles.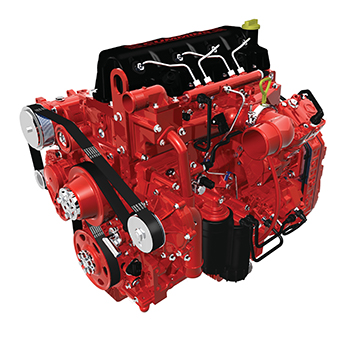 The ISF engine family is said to offer greater performance, low weight and operating costs, and improved durability. It has been developed specifically for light commercial applications such as trucks, vans, pick-up trucks and utility vehicles. The high torque and power availability makes them ideal for weight-sensitive and space-constrained installations below 3,5 t gross vehicle weight (GVW).
The ISF 2,8 is said to be the lightest and strongest engine in its displacement class. Catering for Euro III and IV emissions levels, it offers advanced thermal engineering, electronic integration, and a High-Pressure Common Rail (HPCR) system. In addition, a Cummins waste-gated turbocharger provides improved response by means of higher lower-end torque.
The design of the 2,8 and 3,8 litre engines feature modular architecture for easy access and single-side servicing, reducing overall operating costs. A high top-tank temperature capability facilitates higher operating temperatures, thereby reducing the size and cost of the cooling package required on the vehicle.
The Electronic Control Module (ECM) has an industry-standard datalink that accepts input from all powertrain components, creating a seamless flow of shared information, along with a high-speed network. The high processing capability of the ECM maintains an optimum balance between load elements, fuel efficiency, and emissions control.
Fu points out that the engine's HPCR system can function at an extremely high pressure, and provides precise control of the combustion process. Moreover, it is capable of generating injection pressures that allow for refined and rapid power delivery, low noise, and fuel-efficient performance.
The Wastegated Turbocharger, developed by Cummins Turbo Technologies, provides for greater performance across the power band range, as well as improved response through higher low-end torque. The range has the latest oil and fuel filtration systems developed by Cummins Filtration for high engine protection.
"Cummins is committed to meeting international emissions standards by adopting the right technology for each market's emissions limits, test cycles and operational factors. No other engine company has all of the critical sub-systems in-house; electronic control, air handling, fuel systems, combustion technology, filtration and exhaust after-treatment," says Bo Fu (Bob), sales and business development manager at Cummins.
The ISF engines achieve Euro 4 using Selective Catalytic Reduction. Cummins' integrated system provides the highest levels of performance and fuel economy, with the longest service intervals and low noise. "The system enables the move to Euro 5 with minimal impact on the installation," Fu concludes.