Robert Friedland and Lars-Eric Johansson, respectively Executive Chairman and CEO of TSX-listed Ivanhoe Mines, and Dr Patricia Makhesha, Managing Director of Ivanhoe's subsidiary, Ivanplats, have jointly announced that Shaft 1 at the Platreef platinum, palladium, rhodium, gold, nickel and copper mine near Mokopane in Limpopo Province has reached a depth of 500 m below surface. This is more than half way to the planned final depth of 980 m.
Ivanhoe indirectly owns 64 % of the Platreef project through Ivanplats and is directing all mine development work. The planned initial average annual production of the mine will be 476 000 ounces of platinum, palladium, rhodium and gold, plus 21 million pounds of nickel and 13 million pounds of copper.
The 7,25-m-diameter Shaft 1, which is expected to reach the Flatreef mineralisation at a depth of approximately 783 m in the third quarter of next year, will be used for initial access to the Flatreef deposit and early underground development.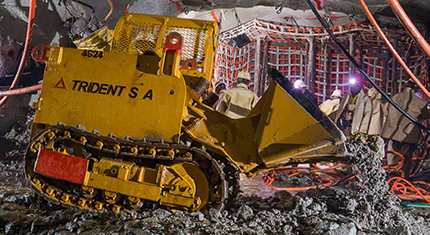 The first shaft station, completed in September at a depth of 450 m, will be used as an intermediate location for water pumping and shaft-cable termination.
As shaft sinking advances, an additional three shaft stations will be developed at mine working depths of 750 m, 850 m and 950 m.
"Our focus is to keep advancing the Platreef project along its critical path," said Friedland. "Our continued development of shafts 1 and 2 will provide access to the Flatreef deposit and help to ensure that the project is able to meet the scheduled, first phase start-up of the underground mine and concentrator by 2022."
He added "Our team is dedicated to building a state-of-the-art mine that will produce metals that are essential to our urbanising planet. It is a mine that matters to all of our stakeholders and an achievement that we will be able to proudly recount to our grandchildren. Building a major, new platinum-group-metals mine in the current market takes long-term vision, unwavering resolve and a clear focus."
The sinking of Shaft 1 is continuing to advance at a rate of 40 to 50 m per month. Approximately 40 % of Platreef's shaft-sinking team now comprises employees drawn from local communities who had no previous mining experience. New employees received intensive, onsite training for underground-mining and complete a workplace-safety induction programme.
"We pride ourselves on having a highly-skilled, safety-focused workforce, and we have been impressed by the willingness of our senior staff to help pass on these skills to the next generation of miners," said Dr Makhesha.
Ivanhoe also reports that early-works surface construction for the project's second shaft, Shaft 2 – which will be the mine's production shaft – is expected to be completed in the third quarter of next year.
The early-works programme began last May with initial curtain grouting around the boxcut. Further work includes the excavation of a surface boxcut to a depth of approximately 29 m and construction of the concrete hitch for the 103-m-tall concrete headgear (headframe) that will house the shaft's permanent hoisting facilities and support the shaft collar.
Shaft 2 will have an internal diameter of 10 m and the capacity to hoist 6 Mt/a. The headgear design for the permanent hoisting facility has been completed by South Africa-based Murray & Roberts Cementation.