Vedanta Zinc International (VZI), a subsidiary of London-listed Vedanta Resources, reports that commissioning of its Gamsberg project near Aggeneys in South Africa's Northern Cape Province has begun. The project is one of the largest greenfield mining projects in Africa.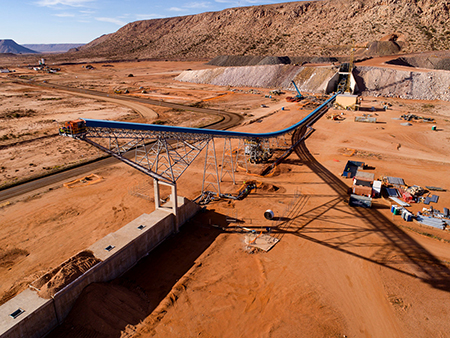 Waste pre-stripping was completed by the end of June 2018 and ore production has commenced. In total, 67,2 million tons of waste has been pre-stripped, against an initial target of 68 million tons, and 487 000 tons of ore has already been mined, against an initial target of a 500 000-ton ore stockpile before plant commissioning. The team is consistently achieving a mining production rate of 4 to 4,5 million tons per month of overall rock mining and this is expected to continue into the operational phase of the project.
Plant and infrastructure construction activity peaked in the first quarter of 2018/19, with almost 3 000 personnel employed at the site. Of those employed on site, 1 050 are from the Northern Cape and 550 from the local Khai-Ma municipality.
The necessary water and power infrastructure (38 km water pipeline with pumping and storage and 20 km powerlines with a main receiving substation) has been successfully commissioned and is now delivering water and power at the required capacity. Construction of the 117 ha HDPE-lined Tailings Storage Facility (TSF) is complete and it is ready to receive tailings. Cold commissioning of the first section of the plant, comprising the crusher and the conveying systems, is also complete.
Gamsberg has just begun feeding ore to the front end of the plant (run-of-mine crusher, conveyor and coarse ore stock pile sections) to build the required crushed ore stockpile. The building up of crushed ore stock in readiness for feeding ore to the mills and downstream flotation and dewatering sections of the plant is scheduled for the end of July, which is when the important milestone of first ore feed to the semi-autogenous and ball mills should be achieved. Thereafter, first product from the concentrator plant filter is expected by early September.
The concentrator plant operations and maintenance 'business partner' is fully mobilised on site and is engaged in commissioning activities.
Gamsberg is targeting both the production of saleable concentrate and the first truck shipment of that concentrate by the end of Q2 2018/19 (September 2018). Ramp up to the full 4 Mt/a is expected within 9-12 months from the first ore feed. The operations team is fully on-boarded and is working to ensure a smooth operational ramp up.