Quarries need to produce aggregates at the lowest cost per ton without affecting the overall quality of the product. To do this, operators need to take a long-term strategic view when purchasing crushing equipment. Most importantly, these operations ideally require equipment from an Original Equipment Manufacturer (OEM) capable of not only providing an optimal crushing solution but also able to supply the highest level of customer support for the full life of the operation.
Maximum throughput at minimum downtime is a maxim that is often used, however achieving this requires more than just purchasing quality crushing equipment, according to JD Singleton, general manager Trio crushing and screening equipment at Weir Minerals Africa.
Singleton says that quarry operators need to ensure that the crushing machine selected is fit-for-purpose and will meet the exacting application requirements of their particular operation.
Weir Minerals Africa has a dedicated team of crushing and screening application engineers who are tasked with visiting the customer's site where a full assessment of the crushing operation is conducted. This takes factors such as the feed size of the material, product type, the capacity required, product sizes required, shape of material, hardness and moisture as well as the available infrastructure including power and footprint into account.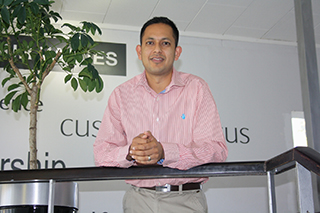 Rasheel Sukdhoe, product manager Tri® crushing and screening equipment at Weir Minerals Africa.
This information is used to select the most appropriate crushing equipment solution that will best meet the needs of the operation. Weir Minerals boasts an extremely comprehensive portfolio of crushing and screening machines catering for all ore bodies with capacities from 50 tph to 1 500 tph.
In line with the company's customer support strategy, local technical and engineering support is available directly from its Isando facility.
"This is a major advantage to customers as having the team of applications engineers and engineering support at the same premises means individual solutions can be optimised for customer specific needs," Singleton says. "This means that a custom-engineered solution will be provided and customers can be assured that the operation's exact crushing needs will be met."
This high level of support from Weir Minerals Africa is carried all the way through to on-site commissioning as well as ongoing aftermarket support. A dedicated aftermarket support structure with teams that understand the customer operations, are on the ground visiting these sites to assist with and plan for preventative maintenance. Customers have ready access to technical support as well as a good off-the-shelf availability of consumable spares and wear parts.
Rasheel Sukdhoe, product manager Trio crushing and screening equipment at Weir Minerals Africa, says that significant research and development has been undertaken on those products that have the greatest impact on customer operations. "Notably, these are our Trio TP cone crushers and our Trio Vertical Shaft Impact (VSI) crushers, as these machines are responsible for producing final product and therefore directly impact on the operation's revenue stream."
Both cone crushers and vertical shaft impact crushers are integral to the final product quality at quarries and the application of appropriate crushing technology in these areas will allow operations to increase their flexibility and, more importantly, reduce operating costs.
Trio® Top Performance (TP) cone crushers
The Trio TP cone crusher has been engineered with a unique combination of high crushing force, high throw and high pivot point; these characteristics facilitate continuous performance and allow the operation to maximise its return on investment.
A 250tph modular Trio aggregate plant installation in East Africa.
The machine has a steep crushing chamber angle, a large crushing stroke, and operates at optimum speed to deliver a finer product. The high pivot point provides a greater reduction ratio at the top of the head, resulting in greater flexibility in feed size and higher production. The large throw crushing action facilitates maximum throughput and increased interparticle breakage.
"The crusher is 10% heavier than comparable machines, allowing it to accommodate an increased throw," Sukdhoe says. The robust three-arm frame design, inside the one-piece cast high strength alloy steel mainframe of the Trio® TP cone crusher, provides more discharging space for the crushed material. It also reduces material build up inside the machine.
A number of integral self-protecting features provide high levels of mechanical reliability in the harshest operating conditions. One such feature is the unique anti-spin device which provides continuous proper alignment of bearings inside the crusher.
Sukdhoe explains that this device ensures that the machine will instantly crush rock as it is introduced to the crusher.
The advanced hydraulic system on the Trio TP cone crushers features pre-charged accumulators and relief valves. This ensures the safety of both operator and equipment. The fully integrated hydraulic console is equipped with push buttons for monitoring and controlling the crushing force, bowl thread clamping and crusher Closed Side Setting (CSS) adjustment.
The Trio TP cone crusher is equipped with temperature, flow and pressure sensors that are integrated into a cloud based data management system. "This allows the creation of an individual crusher maintenance and operating profile, further enhancing performance and reducing operational costs," Sukdhoe says.
Ease of maintenance and servicing has been addressed through the design of the machine. The compact countershaft box assembly with pinion gear can be easily removed without disassembly of the crusher. This also provides a more structurally stable machine.
The Trio TP range of cone crushers can be installed as a single machine or combined with a full product line of Trio crushers, screens and conveyors to provide total solutions for stationary, portable or modular plants.
Trio Vertical Shaft Impact (VSI) crusher
Engineered for use in tertiary or quaternary stage crushing, the Trio VSI crusher is suitable for a wide range of applications including the production of high quality manufactured sand and premium shaped aggregates.
Featuring advanced open table designs, multi-port rotors and a larger bearing capacity than most other VSI crushers in the industry, the Trio VSI crusher is capable of achieving high throughput while offering reliable and cost efficient performance.
The large receiving hopper facilitates easier feed conveyor placement while the adjustable feed diverter ensures even feed distribution into the crusher. An important feature is the externally adjustable feed tube which allows adjustment without opening the crusher. The convenient inspection door mounted in the lid allows safe and easy inspection.
Sukdhoe says that the Trio VSI crusher is available with three different interchangeable chamber configurations. "This allows for maximum application flexibility and the Trio VSI crushers have consistently demonstrated their ability to produce high quality cubical aggregates," he says.
Steel-on-steel configurations are suitable for crushing non-abrasive materials in secondary and tertiary crushing applications with larger feed sizes, while a rock-on-rock configuration is best where additional fines or shape of material are required. Rock-on-steel configurations are used for crushing low abrasive materials where a higher rotor speed is necessary to achieve additional fines production.
Fully customisable to meet individual operation requirements, the crushers can operate in either open or closed circuits, dependent on the type of performance required.
An independent modular oil lubrication system with built-in heating and cooling ensures optimum bearing lubrication. A flow meter and temperature sensors with interlock safety shut switches provides protection for the bearings. An integral vibration protection system that includes a maintenance alarm alerts personnel to potential problems. In the event that excess vibration occurs, the vibration switch will shut down the crusher to protect it from possible damage.
A further safety feature is the micro switch incorporated into the lid lift. This prevents the crusher from starting up during inspection or maintenance.
Weir Minerals is known for its design, engineering and manufacturing capabilities, and Singleton says this plays an important role in ensuring our crushing machines provide reliable performance while reducing overall cost of ownership. "By partnering with customers from design through to final decommissioning, our skilled personnel are able to devise the best crushing solution to meet customer requirements including the production of a quality product for the quarry owner," Singleton concludes.