We are all looking for ways to save money yet our monthly electricity bill never comes to mind. How much energy do we use? What appliance draws the most power? What can we avoid using in order to reduce costs?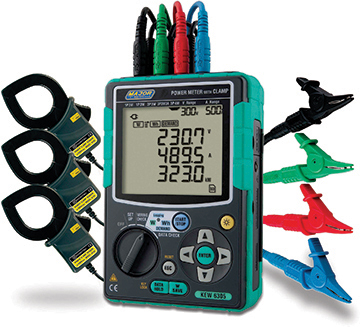 Of course, there are many different sources of alternative energy, but these are not always accessible due to the high cost of existing technology. Being aware of energy saving is one thing but measuring it is quite another. Yes, we use electricity, and yes we have a meter somewhere in the building, but that only gives us a total.
How do we measure energy consumption of some of our appliances? To go down this road we need to be able to identify what is essential and what is not, and only after doing that can we measure our consumption.
Major Tech's rugged, compact power meter, the K6305, offers the complete solution. It offers 3P4 W, 3P3 W or single phase measurements with recording intervals from one second up to one hour. The single phase measurement also allows the machine to measure three different loads which will enable you to measure the total supply, essential loads and non-essential loads. This makes the K6305 ideal for any solar installation quotation.
The K6305 power meter can measure instantaneous power, integrated power and has a demand feature. "This instrument has a wiring check function which enables the user to check phase angle which eliminates incorrect connections," says Werner Grobbelaar. "The meter will check the connections and display the results on the LCD screen." A wide selection of clamp sensors allows measurements from 0.1 A to 3 000 A of which the instrument automatically recognises what kind of clamp sensor is connected to it.
The K6305 meter utilises SD card technology which offers the user recording times of up to a year. It also has a 3 Mb internal memory and the data can be transmitted to PC via USB or Bluetooth. Measured data can be checked on android devices in realtime by using the Bluetooth function. The K6305 complies with IEC61010-1, CAT III 600 V safety standards and includes power and energy measurement features such as voltage (True RMS), current (True RMS), active power, apparent power, reactive power, active energy, apparent energy, reactive energy, power factor (cosθ), frequency, demand measurement and current flowing on the neutral line (only on 3-phase 4-wire measurement).
Standard accessories: K7141 (voltage test lead set four pcs), K8125 (500A Ct's x 3), K7148 (USB cable), K7170 (power cord), K9125 (carry case), SD card (2 Gb), Kew Windows (PC software), 6 x AA 1.5 V batteries and quick manual. Optional accessories: K8124, K8125, K8126, K8127, K8128, K8130 (Clamp sensors). K8129 (flexible clamp sensor), K8132 (power supply adaptor), K9132 (carrying case with magnet).
Major Tech's K6305 easy-to-use power meter effectively helps you to locate, predict, prevent and troubleshoot problems in power distribution systems and is an absolute must have.
Enquiries: www.major-tech.com