For the reliable and fast cutting of plastic corrugated pipes with universal capacity range of diameters from 13 to 32 mm, Garry Lumpe Imports offers Knipex Corrugated Pipe Cutters. The tools are easy to use; simply press the Knipex TwistCut together and turn with slight pressure. This leaves a clean cutting edge with no damage to internal cables as the cut is always at the top of the corrugation.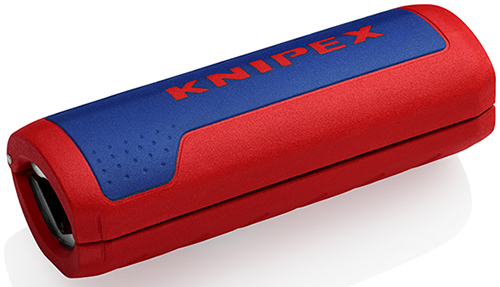 The 90 22 02 SB it comes with an additional stripping function with wire blades for diameters of 0.2, 0.3, 0.8, 1.5, 2.5, and 4.0 mm.
Features:
• Simple insertion, reliable and easy cutting without waste.
• Precise cut without damage thanks to the unique arrangement of the cutters with side guide.
• Good accessibility thanks to the slim design.
• Made of glass fibre reinforced multi-component plastic with soft gripping zone.
• Internal length scale for consistent stripping of cable, legible for both right and left-handed users.
• Injection moulded length scale for consistent stripping to a uniform length, legible for left and right-handed users.
• Practical locator simplifies the insertion of single conductors for stripping.
Enquiries: + 27 (0) 11 396 4065