Traditional glass neon tubes are tricky to install, requiring specialised high cost installations. They produce very little light for the amount of power they consume and are limited to certain colours because of limited gas and glass colour combinations. The glass tubes are fragile and one crack can break an entire section. All these factors add up to a high maintenance and running costs.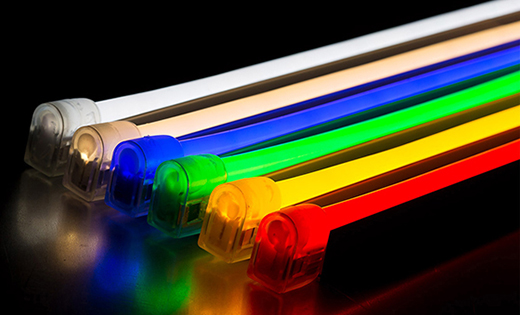 As an alternative, MCE Electric has launched high quality O-lite LED Neon Flex Strip Lights, which solve all these traditional problems and which are packed with new features. O-lite Neon Flex radiates a bright and even neon glow across the entire length of its surface and, due to its ease of installation, flexibility and versatility, it is perfect for residential, commercial, architectural, landscaping and artistic décor projects. Its application in signage has gained worldwide popularity as the replacement for traditional glass neon.
O-lite Neon Flex is rated IP65, making it suitable for indoor and outdoor applications as it is extremely robust and hard-wearing, and it doesn't use mercury or any other toxic chemicals to produce neon light. Its low operating voltage means that it runs at a low heat, making it safe to use. It can be cut on designated lines at every metre and is easily joined in minutes. Its lateral bending quality allows for tight radius turns and makes it perfect for creative and signage purposes. Boasting high quality internals and 92 LEDs per metre on a single colour strip, one can expect an extremely long lifespan matched with a super bright performance.
O-lite Neon Flex is ideal for concealed lighting or backlighting, giving a smooth, evenly lit effect without any light or dark spots and no physical LEDs visible. Creativity and imagination are the only limits to the product's applications. O-lite Neon Flex is supplied in a length of 10 m and the single colour range includes red, green, blue, yellow, cool white and warm white. The colour changing O-lite Neon Flex strip comes with an RGB controller so one can change between eight different colours, adjust the brightness, or use one of six pre-sets such as auto, flash, jump and fade. The speed of these effects can be controlled with the same remote.
The O-lite Neon Flex Strip Light comes complete with a power adapter, two end caps, one middle join connector and five aluminium mounting clips. MCE Electric also stocks a wide range of accessories such as RGB controllers, power adapters, middle join connectors, end caps and mounting clips to make installing and working with O-lite Neon Flex even easier. Now is the time to enhance your signage, create a mood, display or advertise a product like never before. Just think what you could do with the power of neon without the limitations of traditional neon.
Enquiries: www.mce.co.za