Magnet has recently been appointed as distributors throughout Southern Africa, for the Hensel range of electrical installation and power distribution systems for facility equipment of buildings.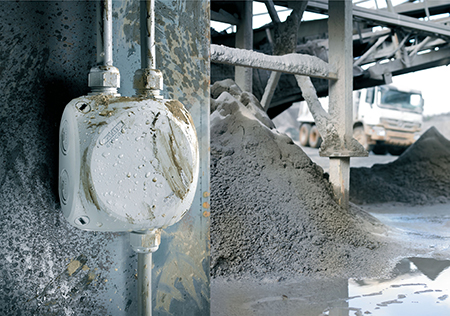 "Magnet's Hensel range, which includes cable junction boxes, distribution boards, electrical enclosures and cable entry systems, is manufactured in Germany to stringent quality and safety specifications," says Brian Howarth, managing director, the Magnet Group. "Dusty and humid environmental conditions place high demands on electrical installations. For this reason, it is critical that only products of the highest quality be selected and professionally fitted in electrical installations.
"The addition of Hensel products to Magnet's range enhances the company's position in the distribution of electrical energy in the low voltage sector. Of particular interest to the local market are DK cable junction boxes, Mi power distribution boards up to 630 A and KV small type distribution boards."
DK cable junction boxes, which are suitable for use in normal environments and protected outdoor areas, are enhanced by fireproof units with resistance to high temperatures.
The latest generation of ENYCASE DK cable junction boxes has a push-in seal, with an IP66 degree of protection. Cable entry is via integrated elastic membranes in box walls, alternatively, a cable gland can be set after removing the elastic membrane and extension ring. These boxes have multi-level knockouts for cable glands in various sizes.
Hensel junction boxes, with the latest terminal technology, have been designed with more space for wiring, allowing two different terminal positions. Every terminal has two clamping units per pole and each pole allows the connection of various conductor types and cross-sections.
DK cable junction boxes are available with or without terminals for copper and aluminium conductors and safety lighting circuits. Units are also available with main line branch terminals and with terminal blocks. Boxes in this range have also been tested for insulation integrity and intrinsic fire resistance. Weatherproof models are suitable for outdoor installation and waterproof units can be safely encapsulated.
ENYCASE cable junction boxes, which have been tested for intrinsic fire resistance, are manufactured from Polycarbonate, with multi-level knockouts for cable glands in different sizes. Specially designed accessories include a restraining strap that prevents the lid from falling and external brackets for secure fastening.
Mi power distribution boards up to 630 A, meet new IEC 61439-2 standards for the construction of switchgear assemblies. Mi units are manufactured from Polycarbonate and have an IP65 protection rating against dust and water and Class II protection. This combinable and extendable enclosure system, which can also be used as a single box, is designed for the assembly of power switchgear and control gear assembly. These totally insulated distribution boards are insulation enclosed and with resistance to corrosion, chemicals and UV, they are suitable for protected outdoor installation and for use in harsh environments.
KV small type distribution boards meet new IEC 60 364-4-41 standards for protection against electric shock. Features of these distribution boards include a compact, user-friendly design, with cable entry covers and FIXCONNECT plug-in terminal technology for PE/N. These units have an integrated compartment for accessories, plenty of space for installation, wiring and labelling and lower side walls enable easy access to built-in equipment. DIN rails are fitted with a stopper for correct positioning of the installation device and connections for Copper conductors are standard. The KV series, which has been glow wire tested, is flame-retardant and self-extinguishing.
Enquiries: +27 (0)31 274 1998